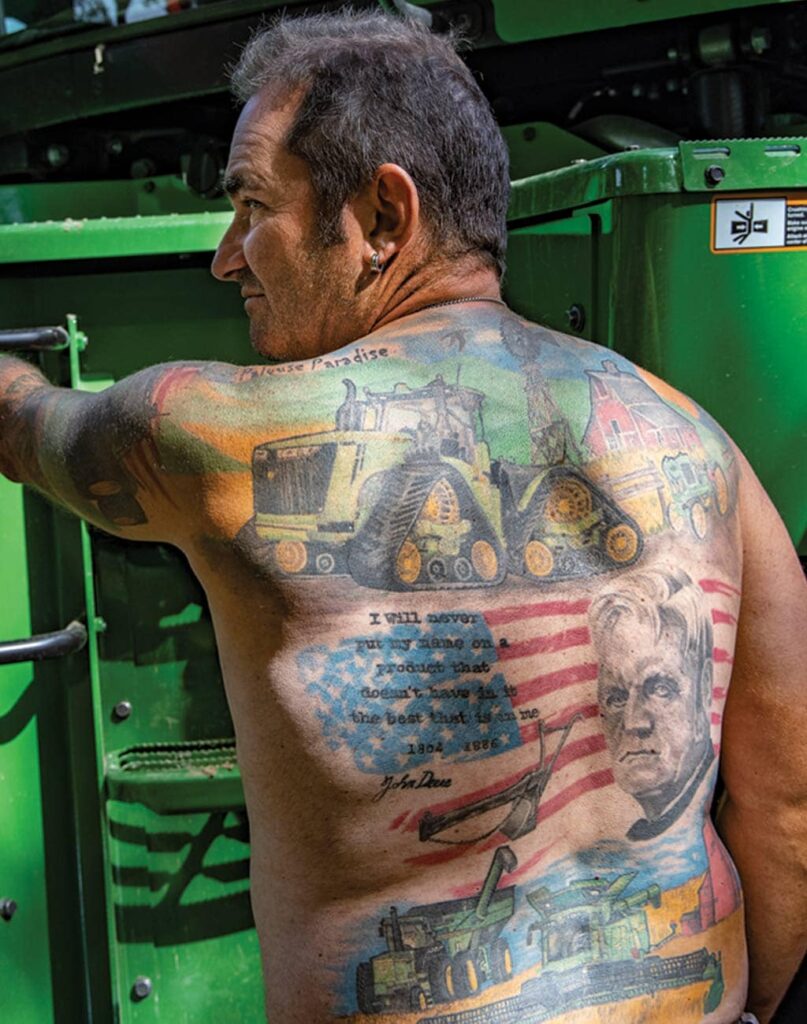 One of the most common reasons people get tattoos is to have a permanent record of something significant in their lives. For Jean-Charles Reihle, farm operations manager at Ferme Bonneterre in St-Paul, Quebec, nothing has had a greater impact on his life than his passion for all things John Deere. It colored his childhood, determined his career, and shaped his hobbies. He just might be the company's biggest fan.
Sometimes the smallest event will shape the course of a person's entire life. That pivotal moment for Reihle came when he was six. The way he describes it could be a scene from a movie.
A young boy is playing in the picturesque Swiss village of Vionnaz; suddenly he hears the distinct put-put-put of a diesel engine. He dashes out to the street and sees a local farmer coming down the road on a John Deere Lanz 710 tractor. He is awestruck. The farmer waves and continues down the road. The boy grabs his bike and follows the tractor.
"After that, each time he would drive in front of our house I would take my bike and follow him out to the fields," Reihle says. "He'd stop and let me ride with him on the machine. I was the only child in the village, in all the villages, that he would allow to ride with him. My path was set, no matter what, I was going to work with a John Deere tractor."
Reihle is a collector. Anything related to John Deere is fair game; scale model equipment, Furrow magazines, toys, clothing, and home decor. He collects Deere-themed memories and experiences too. When he saw the commercial introducing the 9RX Series Tractors, he spent two years searching for where it had been shot. "Finally, an American collector friend told me it had to be filmed in the Palouse. So, I booked a vacation to Oregon and Idaho to try and find it." He memorialized his trip in some of the tattoos on his back.
"The red barn on my right shoulder is by Idaho Falls," Reihle says. "The silo at the bottom is in Southern Alberta near the Montana border."
The tattoos on Reihle's back and arms are an ode to a century of John Deere advertising.  There are copies of logos from different eras, the company's famous tagline 'Nothing runs like a Deere,' scrolls down one arm. His back is dominated by a large 9RX tractor and a reproduction of the well-known black and white portrait of John Deere; an American flag frames one of his quotes.
His first tattoo was the John Deere logo over his heart. Later, Artmadetattoo, an Italian tattoo artist studying in Switzerland, did the 9RX tractor on his back. Two months after that, Reihle flew down to Sanicola in the heel of Italy where Artmadetattoo had set up shop, and the two friends started working on their great collaboration, the elaborate diorama on his back.
 "It took 74 hours in multiple sessions over two years to complete my back and arms," Reihle says. "The six longest sessions lasted 8 hours each."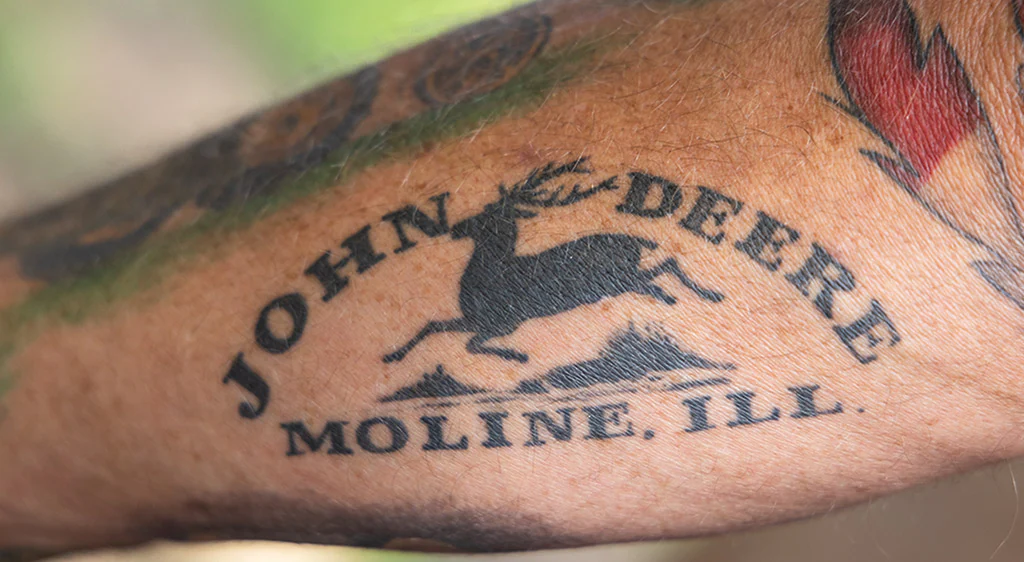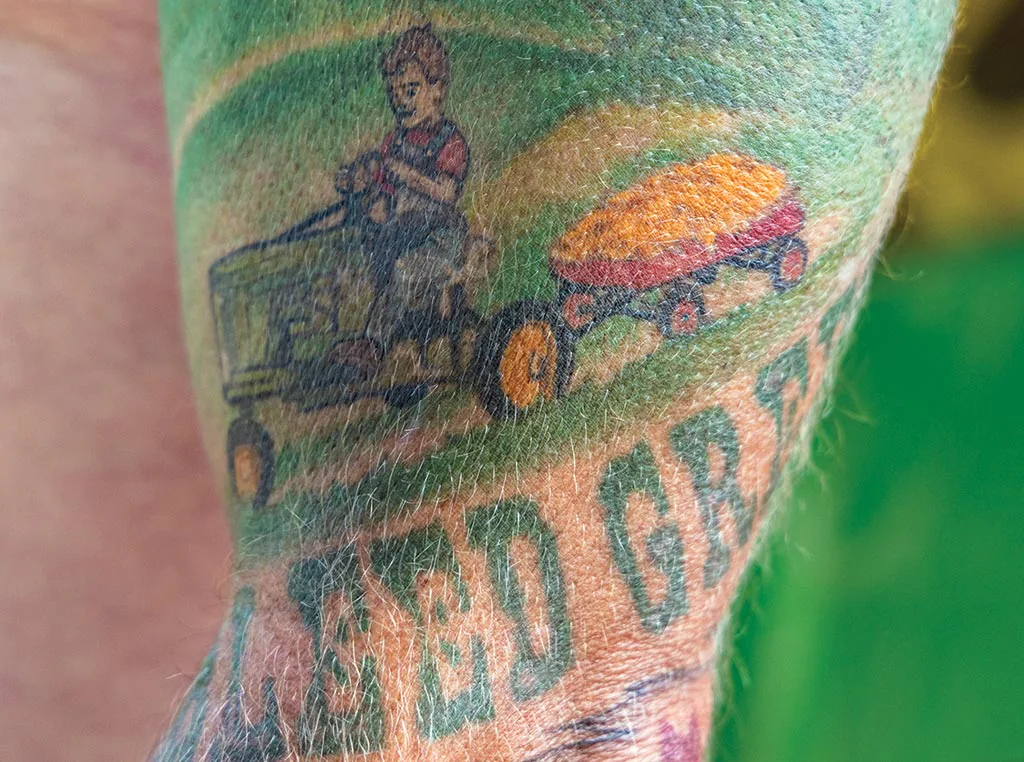 Reihle didn't come from a farm background but he knew what he wanted to do. From the time he was old enough to get a job, he sought out work on farms and always kept a special place in his heart for John Deere. Later, he studied farm management at school and ultimately completed a Swiss Federal master's degree in agriculture. He became fascinated in collecting after meeting a group of collectors at a farm show in Belgium shortly after getting his first farm manager position. He's now part of the global fraternity of serious John Deere collectors. He's traveled extensively across the U.S. to meet with great collectors, like Bruce Keller in Nebraska.
"History is important to me," Reihle says. "I bought lots and lots of toys, tractors and old Furrows off eBay. I had an entire house filled with a John Deere collection. It included porcelain dolls, rare things for children, teenagers, and adults. I love all the old machines. I have a 1937 Model B, a 1951 Model G, and a collection of plows dating from 1880 to 1890 and a very old plow that came from North Dakota. My favorite is my Waterloo Boy toy."
Reihle had to sell much of his European collection before he emigrated to Canada in 2021. He stored a few of his favorites with a friend in France and brought some with him to Canada. His collection is growing again; it will likely never be complete.
"I'm a collector," Reihle says. "And when you are a collector, there's always something that's missing. Everything is beautiful; it's hard to say no."